Home
Talk

2
309pages on
this wiki
Hi proud members of the Arcane Legends Community we have a new target to reach 3 Facebook likes but we cannot do this if we don't advertise this Wikia more.
So, start telling people you know and recommend us to people you know who play arcane legends and we will soon reach our target.
We hope you enjoy the latest improvements onarcane legends wiki as we have dedicated ourselves to help out.
Welcome to the Arcane Legends Wiki:
Edit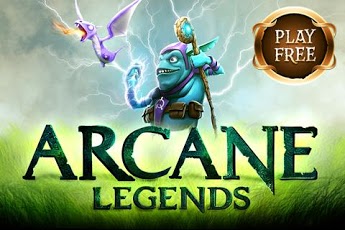 Arcane Legends is a fantasy-themed mobile MMORPG by Spacetime Studios. This wikia is open to the community, so feel free to update/add any information you see fit. (although we will NOT accept ANY unnecessary edits)
Description:
Edit
Arcane Legends takes place in the fantasy world of Arlor and Shuyal. You can play as 3 different classes: warrior , rogue , or sorcerer . Your hero is accompanied by a pet as you adventure through the various locations of Arlor and Shuyal. You earn experience as you kill enemies and complete quests , allowing for character advancement through traits and skills. Arcane Legends runs across several platforms including: Android, iOS, Chrome. It is free to play, yet offers premium features by purchasing platinum using currency.
Character Classes:
Edit
Arcane Legends - players that can help in-game:
Edit
If you play Arcane Legends and you are wondering who might be useful to add as a friend then add the following players as these might be able to help as long as you are over Lvl25+:
"Syziadolica"
If you are under Lvl25 then the best people to add are:
"Hogendo"
"Heiefah"
Latest activity:
Edit